WordPress Vulnerability Scanners are a crucial tool for anyone running a WordPress website. These tools can analyze your site and identify any security holes that need to be patched. Vulnerabilities can range from simple issues such as outdated plugins to more severe problems like malicious script detection. In this post, we will review the 6 best free WordPress Vulnerability Scanners available online.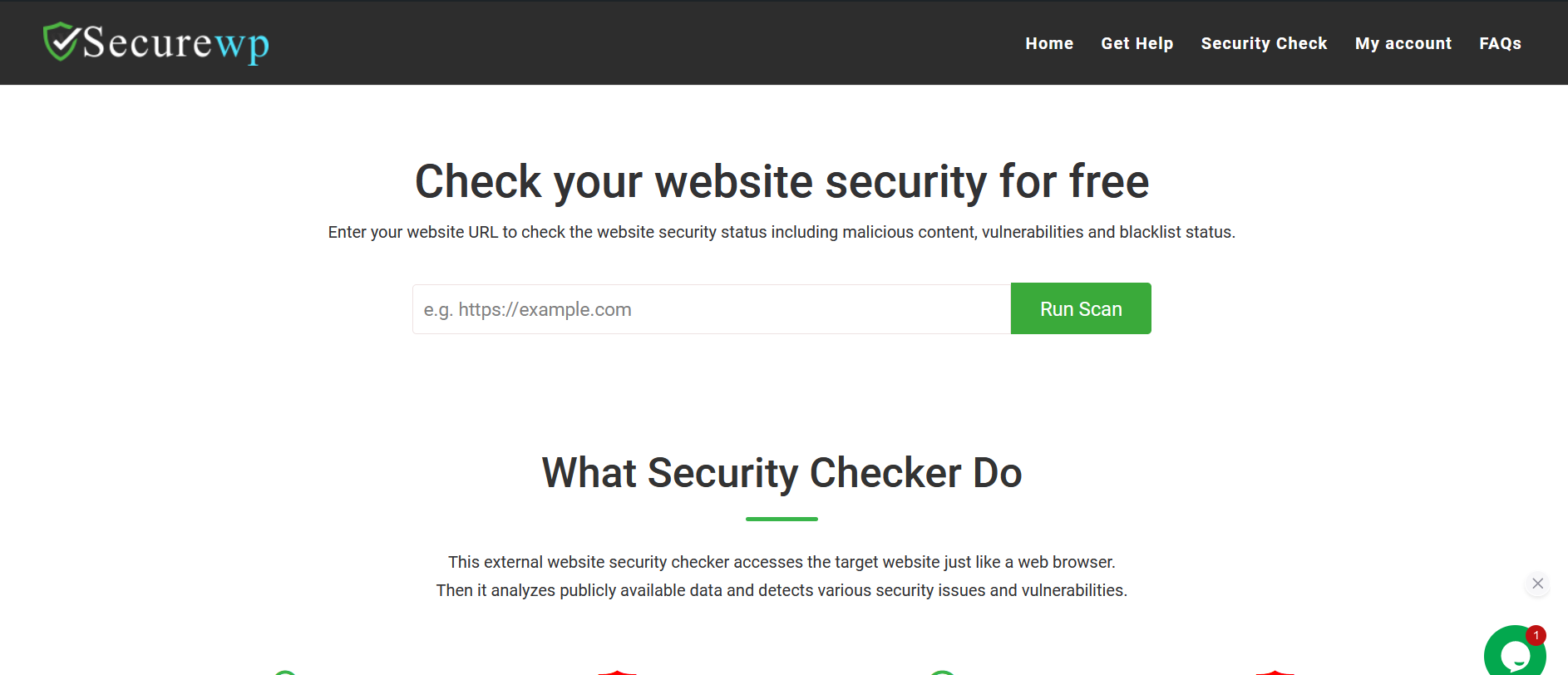 Securewp Scanner is a free WordPress security and Vulnerability scanner that checks for malware, outdated plugins and themes, backup integrity, and other potential issues. The service scans your WordPress site in just a few seconds and provides an easy-to-read report with a green/yellow/red banner to indicate the severity of each issue.
Features
Plugins and theme enumeration, vulnerability check
WordPress core version and status checking
Blacklist check on Google, Norton, McAfee, etc
Known malware detection
Defacement and SEO spam detection
Username enumeration
Directory indexing check
Hidden external links and scripts detection
iframes present
Hosting Reputation and Geolocation information
Security headers check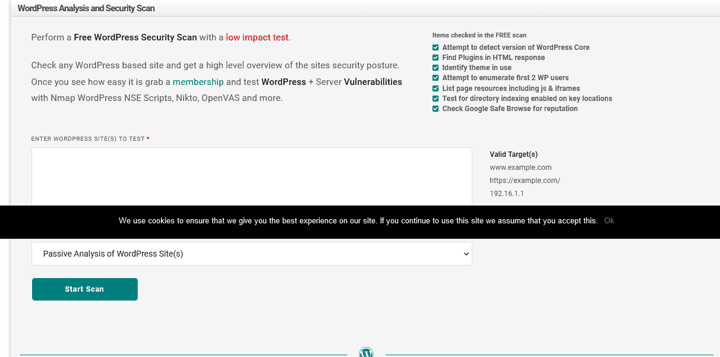 One of the best free online scanners with the capability of reviewing a WordPress installation for common security-related misconfigurations. The scan will also check for outdated plugins and themes, backup integrity, a malware infection.
Features
WordPress Version Check
Site Reputation from Google
Username enumeration
Directory Indexing on plugins
WordPress plugin enumeration.
Javascript linked
iframes present
Hosting Reputation and Geolocation information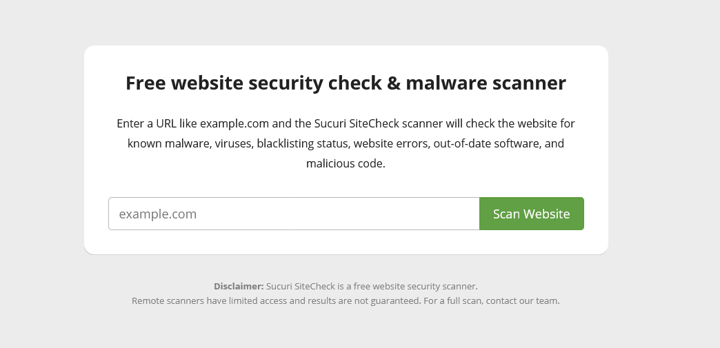 Sucuri SiteCheck is the most popular online free scanner for checking any website report in just a few seconds. It's not a WordPress-focused security scanner but still great in malicious script detection.
Features:
Malicious script detection
Outdated web server software,
Domain blacklist.
Hosting information like the IP
The version of WordPress or PHP-version in use
Upload directory listing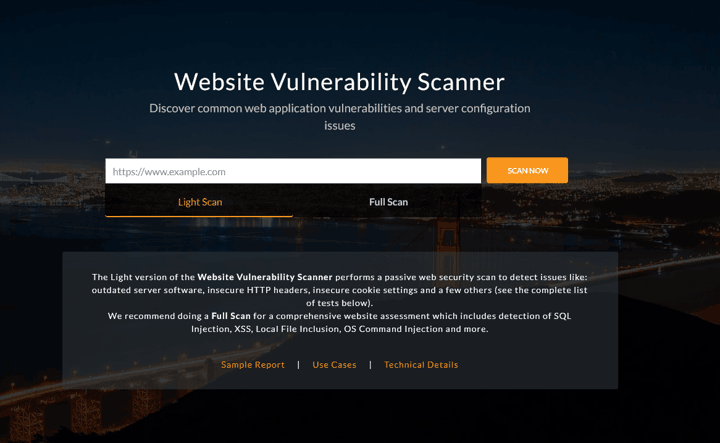 The Light version of this scanner can perform a passive web security scan to detect issues like outdated server software, insecure HTTP headers, insecure cookie settings, and a few others. For a full scan, sign-up is required.
Features:
Website fingerprinting
Version-based vulnerability detection
Common configuration issues
SQL injection
Cross-Site Scripting
Local/Remote File Inclusion
Remote command execution
Discovery of sensitive files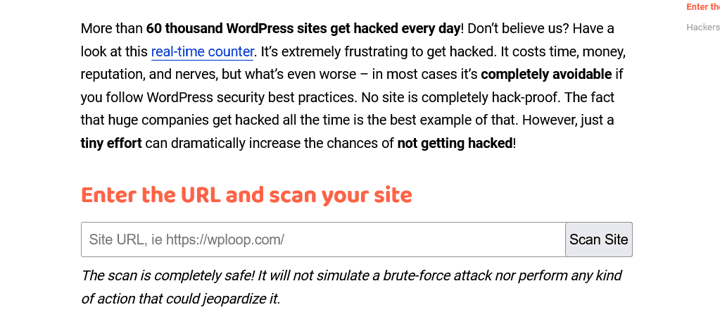 This service offers a basic scanner for WordPress and PHP that includes server vulnerabilities, application vulnerabilities, WP vulnerable plugins checker.
Features
Scanning SSL Certificates
WordPress version check
Username enumeration
Cross-Site Scripting (XSS) detection and exploitation prevention module.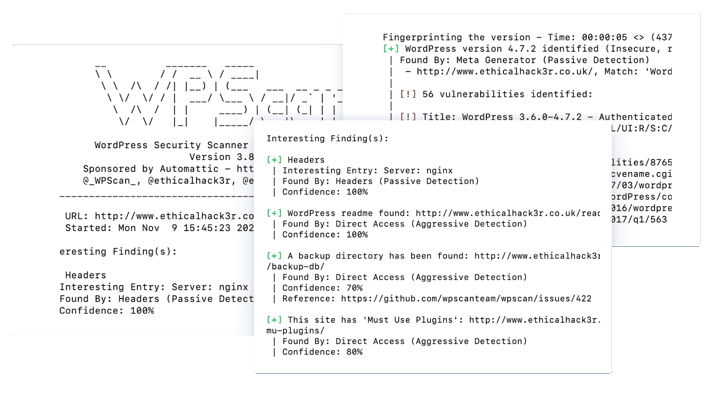 WPScan Vulnerability scanner is a free and open-source WordPress Vulnerability scanner. It's written in Ruby, using the WPScan script library to enumerate vulnerabilities on WordPress installations by performing scans with all kinds of different payloads and detecting plugins that could be vulnerable.
However, wpscan is a great scanner to scan WordPress vulnerability. To use this scanner, you need to install it on your Linux system.
Features
The version of WordPress installed and any associated vulnerabilities
What plugins are installed and any associated vulnerabilities
Username enumeration
Users with weak passwords via password brute-forcing
Sensitive files existence
If plugins expose error logs
Vulnerable Timthumb files
Upload directory listing
Use these scanners regularly to keep your website secure and safe from potential vulnerabilities.