WordPress Hack Recovery and Security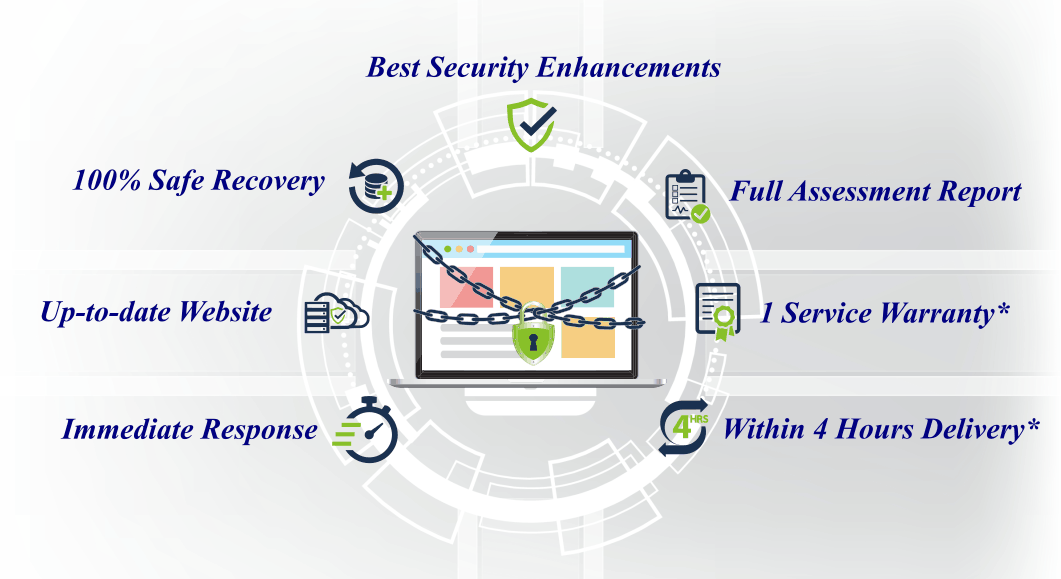 Our WordPress security expert team is ready to rescue and recover your website from any kind of hack within a few hours. We will thoroughly review and scan your website, clean & repair compromised/infected files. We will make sure that your website is 100% clean and secure. We will provide the highest security hardening features to protect your website from all kinds of security threats.
Type of WordPress hack
Malicious redirect.
Website defacement.
Backdoors/Web shell.
Pharma hacks.
Japanese keywords hack.
SEO spam / hidden backlink.
Phishing content.
Social engineering content.
XSS – Hidden malicious links.
Incident response team ready to:
Identify vulnerabilities.
Run a full internal security scan
Check WP core, plugins, theme files integrity.
Clean up and repair compromised files.
Check and repair database if injected.
Replace WordPress core files.
Make everything up to date.
Ensure that everything is fresh and functional.
Incident Response
World-class web security incident response team with high availability, ready to rescue.
Fair Price
Always fair, much less than the market price, no extra or hidden fee will be forced to you.
Real Time Update
Stay connected with us in live chat & get live updates about ongoing tasks and estimation.
24/7 Live Chat
Our team available 24/7 hours in live chat for both new and existing customer support.
No Damage – Recovery
No matter what happened and how damage your website is, 100% recovery guaranteed.
Experienced Team
Vastly experienced team on Linux, WordPress & Security you can count on.
Analysis Report
Incident & post-incident debrief of all findings & executed security hardening.
Reliable Service
Trusted name with high 3rd party rating and 7 years of experience in WordPress & Security.